Fellowship Camp 2017
What:
A camp for all ages with fun, community, bible talks, bush walks, and more
When:
12pm Fri 14th – 3pm Mon 17th April
(Optional Thursday as well – see schedule)
Talks:
Speaker: Andres Miranda from Knox PCEA
Theme: The Simple Things of the Christian Life: The New Birth, Holiness, Growth, and Service
Camp Psalm:
Psalm 143B
Friday night theme:
Crazy hair (there will be prizes for best hair!)
Cooks:
James and Adele Ellery!
Where:
452-456 Pauls Lane, Dixons Creek, VIC
About Andres Miranda (The Speaker for Camp)
Andres and Andrea Miranda were born in Chile, and met in Australia. They have 3 children, Katrina (16), Samuel (20) and Natalie (23). Andres is currently the Senior pastor of Knox Presbyterian Church in Wantirna, Melbourne. Andrea loves welcoming guests and enjoys home decorating. Andres likes to play afro-cuban percussion instruments and is passionate for biblical insights. They are looking forward to fellowship at the camp.
Please pray for Andres as he prepares to speak to us on "The Simple Things of the Christian Life".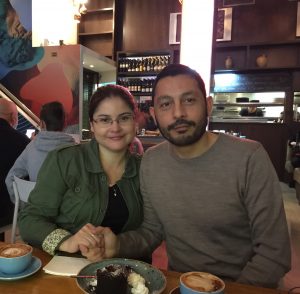 Camp Schedule:
Thursday (unofficial)
Camp organisers will be there from 5pm onwards. Come whenever you would like.
Bring your own food. However, please bring food that requires as little kitchen use as possible.
Friday
Morning – Arrive / Set Up
12pm – Lunch
1pm – Lunch Clean-up
2pm – Welcome
2:30pm – Children's Program / Study 1
3:30pm – Afternoon Tea / Discussion groups
4:45pm – Dinner Prep
5:15pm – Dinner – come with your crazy hair!
6:00pm – Dinner Clean-up
6:15pm – Bush Dance with Maria
7:45pm – Dessert
Saturday
7:45am – Prayer meeting in the Tent
8am – Breakfast prep
8:30am – Breakfast and Family Devotions
9:30am – Breakfast Cleanup
10:30am – Games with the Fishes
12pm – Lunch Prep
12:30pm – Lunch
1:30pm – Lunch Clean-up
2:30pm – Children's Program / Study 2
3:30pm – Afternoon Tea / Discussion Groups
4:15pm – Bush Bash with Ben
4:45pm – Dinner Prep
5:15pm – Dinner
6pm – Dinner Clean-up
6:45pm – Leanne's Quiz / Supper
Lord's Day
7:45am – Breakfast Prep
8:15am – Breakfast and Family Devotions
9:15am – Breakfast Clean-up / Set up Hall for Worship
9:45am – Prayer and Praise
10:30am – Morning Tea
11am – Worship
12:30pm – Lunch Prep
1pm – Lunch
2pm – Lunch Clean-up
2:30pm – Walk
3:30pm – Reading with Ralph (Bible Story) / Precentors Workshop
4:30pm – Afternoon Tea / Camp Photo
5pm – Dinner Prep
5:30pm – Dinner
6:30pm – Dinner Clean-up
7pm – Praise Service
Monday
7:45am – Prayer Meeting in the Tent
8am – Breakfast Prep
8:30am – Breakfast and Family Devotions
9:30am – Breakfast Clean-up
10am – Skipping Time
11:30am – Wrap Up / Thank You's
12:30pm – Lunch Prep
1pm – Lunch
2pm – Clean Up
3pm – Go Home
What to bring
Something to share for morning/afternoon tea (cake, slice, cookies, chips, etc)
Sleeping gear (there are mattresses in the dorms and house, however you will need to supply all bedding)
Tent/Camping Equipment (if you are tenting it!)
Bible, notebook, pen, Psalm Book (BOPFW)
Clothes for all weather (it can be very warm in the daytime and cold overnight)
Crazy Hair for Friday dress up and activities (there will be prizes for best hair!)