Dixons Creek Campsite
is a beautiful campsite located in Toolangi State Forest, near Yarra Glen, which is near Melbourne, Australia. This campsite is owned by the Reformed Presbyterian Church of Australia, and is used for her church camps.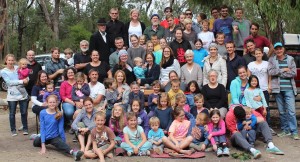 Fellowship Camp of the RPCA is held over the Easter weekend. It is a camp for all ages. Children, adults, both young and old, singles, marrieds, and families are all catered for with the aim of getting together as a denomination to share the gospel and our lives with each other.
"Hallelujah! Praise the Lord from the heavens...Praise the Lord from the earth...young men as well as young women, old and young together. Let them praise the name of Yahweh, for His name alone is exalted. His majesty covers heaven and earth." - Psalm 148
More info
Y
oung Adults Camp of the RPCA is held over a weekend. It is a camp for ages 18+. WIth the aim of cultivating relationships between twenty and thirty someone's, both single and married, working and studying, in order to grow together in our love for Christ and His kingdom.
"We are asking that you may be filled with the knowledge of His will in all wisdom and spiritual understanding, so taht you may walk worthy of the Lord, fully pleasing to Him, bearing fruit in every good work and growing in the knowledge of God...giving thanks to the Father who has enabled you to share in the saints' inheritance in the light." - Colossians 1:9-12
Y
outh Camp of the RPCA will be held from June 24 - 27. It is a camp for youth age 12 - 21 with the aim of getting the youth of the denomination together to spend time with each other and learning more about who God is and how He wants us to live.
"Let no one despise your youth; instead, you should be an example to the believers in speech, in conduct, in love, in faith, in purity." - 1 Timothy 4:12
Register here
J
unior Camp of the RPCA is held during the September school holiday. It is a camp for children age 8 - 12 held with the aim of getting the children of the denomination together to spend time with each other and learning more about God.
"But as for you, continue in what you have learned and firmly believed. You know those who taught you, and you know that from childhood you have known the sacred Scriptures, which are able to give you wisdom for salvation through faith in Christ Jesus." - 2 Timothy 3:14-15
More info
W
orking Bees are held every 2 months, usually on a Saturday from 9am - 2pm. The time is spent working to prepare the campsite for an upcoming camp, as well as the general upkeep of the campsite.
Working Bees are for men, women, children, parents, young and old. It is an opportunity to work alongside one another, to learn with each other, and to serve the Lord together.
Lunch is provided in return for hard work. Accommodation the night before or after is free! Just contact the bookings officer for more information.
Jobs include:
- Vacuuming and de-cobwebbing the dorms
- Cleaning the toilets
- Washing windows
- Cleaning out the gutters
- preparing the lunch
- Tidying the grounds
- Building a charging-station shelf in the hall
- Building an outdoor fire pit for campfires
- and other general clean-up and repairs of the site.
"In every way I've shown you that by labouring like this, it is necessary to help the weak and to keep in mind the words of the Lord Jesus, for He said, 'It is more blessed to give than to receive.'" - Acts 20:35
Working Bee Dates 2016:
- Saturday 12 March
- Saturday 14 May
- Saturday 25 June
- Saturday 17 September
- Saturday 19 November
- Working Bee Camp Monday 26th - Saturday 31st December
A
s a committee of presbytery the camp committee facilitates denominational combined activities at Dixons Creek, not activities arranged by congregations.
The committee is responsible for managing Dixons Creek camp on behalf of presbytery and for improving its range of uses.
The committee recommends to presbytery an annual camp program and organizers for each camp. Organisers arrange staffing and submit arrangements to the committee before each camp.
Presbytery receives recommendations from the committee on a camp ministry policy and oversees its implementation by the committee, organizers and others involved in the camp program.
More info, Members, and Contact